Back to shop
The Peach Truck Cookbook
Currently re-printing! Will ship week of June 15.
The Wall Street Journal Best Seller!
When Stephen and Jessica Rose settled in Nashville, they fell in love with their new city. Their only reservation: Where were the luscious peaches that Stephen remembered from his childhood in Georgia? Amid Nashville's burgeoning food scene, the couple partnered with his hometown peach orchard to bring just-off-the-tree Georgia peaches to their adopted city, selling them out of the back of their 1964 Jeep Gladiator in Nashville's farmer's markets. Since starting their company in 2012, Stephen and Jessica have attracted a quarter of a million followers on social media and have delivered more than 4.5 million peaches to tens of thousands of customers in 48 states. With The Peach Truck Cookbook, the couple brings the lusciousness of the Georgia peach and the savory and sweet charms of Southern cooking, as well as the story behind their success and an insider's guide to the Nashville food scene, to readers everywhere.

From first bites to easy lunches to mouth-watering dinner dishes and sumptuous desserts, The Peach Truck Cookbook captures the Southern cooking renaissance with fresh, delectable, orchard-to-table recipes that feature peaches in every form. Whether you're craving peach pecan sticky buns, peach jalapeno cornbread, white pizza with peach, pancetta, and chile, or peach lavender lemonade—or have always wanted to try your hand at making a classic peach pie—Stephen and Jessica have you covered. Many of Nashville's most celebrated hotspots and chefs, including Sean Brock and Tandy Wilson, have contributed recipes, so you'll also get a how-to on cult menu items such as Burger Up's Peach Truck Margarita. Also included is a pocket peach education—as Jessica and Stephen take you through peach varieties, best harvesting practices, and everything you need to know to have a peach-stocked pantry.

Full of character and charm, The Peach Truck Cookbook is not only an essential addition to the peach-lover's kitchen, it will bring the beauty of summer to your table all year round.
Customer Reviews
Write a Review
Ask a Question
10/20/2020
jane h.
United States
Jane's Review
This was such a fun cookbook. I've only tried a few recipes but they were all good. In addition they gave me ideas about using fruit in other recipes. I recommend it's purchase along with some of those gorgeous peaches which were delicious.
10/17/2020
Donna P.
United States
Peaches
Haven't tried anything yet cause I don't have any peaches! Bought after the peaches were all gone! Will next year thought!
10/16/2020
Churchill F.
United States
Outstanding
My wife, Janet is a total peach snob. I gave her the truck for herJune birthday. Saved the day! Other than being in unexpected places at times during Covid,(we had to give one batch to our employee because we were out of town) they were great. Cookbook was great too. One box came damaged and we received a credit.Will buy again. It was never completely clear how many we had coming, so we ordered some extra. delicious. We grow our own peaches in Vermont, but they come a bit later.
10/15/2020
Betsy V.
United States
More Than a Cookbook
This cookbook was such a nice surprise. Beautiful photography, nice stories about the owners and their kids, and the history of The Peach Truck. It could be a coffee table book. I am not a cook at all, but I was able to make some pretty impressive stuff using the recipes in the book. They didn't all appeal to me, and some were too complicated for my level, but that would be true of any cookbook. I was really glad I bought it with my first Peach Truck peach-buying experience. We had a fun 6-week peach obsession as a COVID distraction!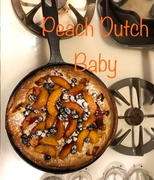 10/15/2020
Tina R.
United States
Absolutely amazing
What an amazing experience to purchase from the Peach Truck.., best peaches ever, looking forward to next year.