Back to shop
The Peach Truck Cookbook
Customer Reviews
Write a Review
Ask a Question
08/21/2020
Grace L.
United States
The Peachtree Truck
Very good reading. Am thinking of buying one for my daughter and daughter-in-law for Christmas. Thank you.
08/17/2020
Pamela R.
United States
I've never loved peaches so much!
I ordered my own 25lb. box of peaches from a Peach Truck Tour stop and I realized I wasn't quite sure what to do with all of the peaches once I got them...so naturally I bought the cookbook and I couldn't be happier that I did! I've tried six out of eight recipes that I originally bookmarked to make with our first batch of peaches and we've loved all of them! Each recipe is simple to do and detailed, not to mention delicious! I also plan on purchasing another to give as a gift!
08/15/2020
Angela M.
United States
Awesome recipes!!
Had to tweak some of the recipes a bit to be a bit more flavorful (for example, the pound cake glaze is much better with added milk, butter, and vanilla), but the majority of these recipes are amazing!! Specifically the cobbler, cupcakes, pound cake, coffee cake, bourbon BBQ sauce, applesauce, jam, butters, hot sauces, etc! It's all so good!!
08/14/2020
Judy S.
United States
Peachy keen!!
I ordered the cookbook with a box of peaches on the Peach Truck tour! What a well organized event! The peaches are great and I love the cookbook! Beautiful pictures, a variety of recipes and I especially like all the wonderful stories in the book & with each recipe! Looking forward to next years tour so I can try more recipes!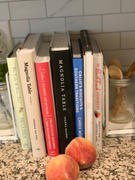 08/14/2020
Frederic K.
United States
Order / Pickup was great, peaches were OK
Obtained a box in June and it was delicious and the peaches lasted for many weeks. This peaches in the box I purchased in August taste spectacular, but the variety has not lasted long. Many were beaten, and rotting in the box after a day or two (before the ones on top had ripened). Even in the fridge after getting ripe they're starting to go bad. Will be wary of purchasing a 1/2 bushel for anything but immediate cooking/freezing.